Centurion Casino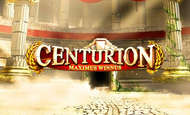 Fluffy Favourites Casino - Starburst Casino - VIP Slots
Centurion is a five reel, 20 paylines casino game by Inspired Gaming. Centurion has Wild, Bonus symbol, Free Spins, Prize Pick, Wild Reel, and Bonus Game features, and an RTP of 95%. Centurion is part of the VIP casino hare at VIP Spins, along with over 700 great online casino games including Blackjack, Roulette, Rainbow Riches, and Starburst.
It's not very often that we can say that an online VIP slots game has a career mode. It's more the sort of thing you might expect to see when you're playing the latest FIFA game on a PlayStation; and yet here one is, serving as one of the bonus features in Centurion by Inspired Gaming. This immersive Roman-themed casino game is well thought out and full of cool perks and bonus features, offering solid gameplay and strong use of its subject matter.
Although almost everybody will know that a centurion was a Roman soldier, fewer people realize that you didn't just become a centurion by putting the armor on and swinging your sword about. Becoming a centurion was something that people had to work at - often over a long military career - and finally achieving the rank would have been considered an achievement. This Inspired Gaming creation sees us follow the progress of a new Roman military recruit as they try to achieve their dream rank, and they're relying on us for help! If we can get them closer to their goal, they'll reward us with bigger and better prizes along the way. It's a team effort!
Even though the idea behind this VIP slots casino game is quite a big one, it's fairly minimalist in terms of presentation. The graphics, while not being ugly, aren't as cutting edge as some of the other online casino games that exist within the same genre. There's a couple of marble columns either side of the reels, a clear blue sky, the words' Reelus Maximus' (which is comedy Latin inspired by the works of Monty Python) above the reels, and that's about it. That doesn't matter though; having a nice background is never an essential part of making a great casino game.
Keep your ears out for the sounds of the musical wing of the legionnaires in the background; as well as playing musical salutes when you win something, there are musical cues when some of the bonus features are about to kick in, too. This isn't a game you'll want to play with the sound off. You might miss something.
There are lots of casino games in our VIP slots casino which use playing cards to represent the low value. Usually, they start on 9, 10, or J, and they finish with A. For some reason, Centurion has decided to go from J to K, with no A. It's not important, but it's unusual! Above them, the more valuable picture symbols are our centurion warrior's helmet, an image of the Colosseum, a shiny Roman coin, a sword and shield, a picture of our centurion friend riding in his chariot, and the game's logo.
On top of the base game symbols, we have a wild and a bonus symbol, too. The wild symbol comes in the shape of a golden wreath; the kind you may have seen on the head of Julius Caesar in films. The wild can replace everything that isn't the scatter to make winning lines for you. The Centurion himself is the scatter, and also the key to gaining access to some of the bonus features.
Similar Themed Games With Centurion
Inspired Gaming is happy to make great online casino games, but they cover all aspects of betting and gambling, whether in or out of the casino. Their primary interest is in virtual sports; they own and operate the largest virtual sports platform in the country, and even bought out a company called 'Virtual Sports' so they could combine their skills with the ones they already had in-house. Continuing their sporting ambitions, they have an exclusive license to use the name and image of Mike Tyson to make casino products; a business arrangement which has so far spawned three games, and is likely to lead to more.
Similar Featured Games With Centurion
When Inspired first formed back in 2002, there were just ten members of staff working in their London office. They've grown steadily since then, and eventually reached a market value that persuaded Hydra to pay big money to acquire them. As part of the takeover deal, the 'Gaming' part of their name was added. Other than that, Hydra seems to have been content to leave them to their own devices.
Centurion Bonus Features
Inspired Gaming has gone above and beyond to make sure that we stay entertained while we're playing Centurion. In addition to a range of four strong bonus features, we also have four reel modifiers to discuss. We'll start by looking at the bonuses! They're all triggered via the same method; three centurion bonus symbols landing anywhere on the reels will take you to a new screen, and on there you'll get one spin of a good old-fashioned wheel of fortune. The outcome of that spin determines which of the four bonuses you'll play, which will be one of the following:-
Prizes On Parade:- How quickly and accurately can you stop a moving cursor on a screen? If the answer is 'very well,' you'll be fine at this feature! With Prizes on Parade, three centurions will line up, each of whom has a different symbol on their shield. The one you want to land on will be carrying a multiplier. The one you don't want to land on has the word 'collect,' which ends the feature. The other one will have an arrow which points to either 'collect' or the multiplier. Keep hitting the multiplier, and you'll be offered a new, higher one each time. The moment you hit 'collect,' your round ends, and whatever multiplier is currently on the screen is awarded against your stake.
Caesar's Free Spins is a free spins feature worthy of the famous Holy Roman Emperor himself. You'll have to spin a couple more wheels before you get to your free spins, though! One will decide how many free spins you'll be given, and the other will choose a multiplier, which stays in force throughout those free spins. This can be the best bonus in the whole casino game if you're able to score highly on both wheels.
Road To Rome: We think Inspired probably intend this to be the main bonus feature, and it's the 'career' mode which we referred to at the start of this review. Your Centurion stands at the beginning of his journey, and you have a dice to roll. The number on the dice is the number of steps he'll take along the road. You don't get very many rolls of that dice, so you need consistent high scores to get him to Rome, where a massive multiplier waits for you. There are smaller multipliers to pick up as your soldier's rank increases, and the feature ends when you run out of dice rolls.
Wild Power Spins: You may only get a trio of free spins with Wild Power Spins, but who cares so long as you get a big win out of it - which you will! On spin one, one of the reels will be stacked with wilds. On the second, two of them will. On the third, as you've probably guessed, three of them will. As there are only five reels, it's impossible not to land a big win with three wild reels, so just sit back and wait for it to come to you. We're all out of bonus features now, but we have four further reel modifiers to talk about, too! They trigger randomly, so you might see them on any spin. The sound of a cornet being blown in the distance will alert you to the fact that a modifier is happening.
Reelus Maximus is a giant 3x3 version of one of the casino games' higher value symbols on the reels for one spin. Super Bonus Reels adds plenty more centurion bonus symbols, so next time you spin, your chances of triggering the full bonuses are enhanced. Big Win is a big win. It's as simple as that! Next time you spin the reels, you'll get a sizeable win based on the top-value base game symbol. Five Of A Kind is a guaranteed winning line on your next spin, made of five matching symbols. Centurion is one of the most well-thought out and feature-packed online casino games this VIP casino has to offer. You always feel like there's a great bonus feature coming to you on your next spin.