Chilli Heat Casino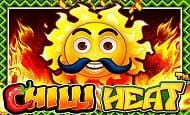 Fluffy Favourites Casino - Starburst Casino - VIP Slots
Chilli Heat is a five reel, 25 paylines casino game by Pragmatic Play. Chilli Heat has Wild, Scatter symbols, Bonus symbols, Free Spins, and Respins features, and an RTP of 96.52%. Our VIP slots casino is the best place to play Chilli Heat. VIP Spins also offers access to more than 700 more leading online casino games including Blackjack, Roulette, Rainbow Riches, and Starburst.
Spring Break must have arrived in the land of online VIP slots games, because we're all heading to Mexico for a fiesta! Chilli Heat, which is piled high with all the sights and sounds of the Latin country, is Pragmatic Play's tribute to the land of luchadors, mariachi bands, and extremely spicy food. This fun-focused casino game is one of the most popular of Pragmatic Play's massive range, and also a constant favorite of players at our VIP casino. Read on to find out why!
Using the tropes and traditions of a country is a very old idea in casino games development. Sometimes, the portrait painted by the games isn't all that flattering. Ask one of your Irish friends about how they feel when they see an Irish-themed casino game full of leprechauns, pots of gold, and lucky clover, and you'll likely get a pretty good idea of what we're talking about! We don't know how Mexicans feel about the representation of their culture which is found in Chilli Heat, but we hope they take it in the spirit of fun. From the happy, cheerful design, we can be sure Pragmatic Play meant it that way.
The gameplay in Chilli Heat VIP slots game happens against a backdrop that could be any traditional, rural Mexican town. It's dusty, drenched in the sun, and surrounded by cacti. There's a town band by the sound of things, because there's a funky mariachi soundtrack playing along in the background while you're trying to rack up wins. You'll especially notice them when those wins do arrive - they'll give you a cheerful little musical salute!
With a few exceptions, if you've seen one Pragmatic Play game when it comes to how the reels work, you've seen them all. They rarely vary from a 5x3 layout - and they haven't here - and they seldom offer more than 25 paylines. Again, they haven't here! Sometimes, familiarity is a good thing. We know what to expect from the developer, and we trust that they've put their online casino games together well. All the symbols on the reels have been given a Mexican twist - even the playing cards, which are J, Q, K, and A, but have been dressed up to look like nachos! The more valuable picture symbols are a little chihuahua in a necktie, a shot of tequila, a bottle of spicy hot sauce, and the leader of the mariachi band, who has a suitably over-the-top mustache and sombrero combination going on.
Chilli Heat has a wild symbol - which is represented by the game's logo - which will substitute for all base game symbols to help you round off winning combinations. Two bonus symbols - which can't be replaced by the wild - are the key to triggering the Chilli Heat bonus features. There's a blazing hot sun, and also a bag of money. We'll explain how both of them work as we turn our attention to the bonus features.
Similar Featured Games With Chilli Heat
We always feel like we know what we're getting with Pragmatic Play when they release new online casino games - our biggest job is keeping up with their frantic release schedule! They were always a busy developer, who'd pledged to release at least one new casino game per month as part of their initial mission statement, but as they've grown and become more successful, that's become more like two or three! From opening in Malta in 2007, it took them less than ten years to reach a total of 100 online casino games available. At their current rate, it'll take them less than another five to make it to 200.
Similar Featured Games With Chilli Heat
There is something of a formula to the online casino games Pragmatic Play make, but it's one that's brought them a lot of success. Expect sharp, attractive graphics, a reasonably traditional layout when it comes to reels, rows, and paylines, and a couple of bonus features which will probably include a free spins round. We don't mean any of this as a criticism - the Pragmatic Play method is a proven winner. It saw that walk away with several variations of 'Casino Game of the Year' for Wolf Gold in 2018, and their other big hits like Great Rhino, Peking Luck, Ancient Egypt, and Vegas Magic aren't far behind either.
Chilli Heat Bonus Features
Pragmatic Play believes that less is sometimes more when it comes to offering bonus features, and so you'll rarely find them offering you any more than one or two. They usually do such a good job with those offerings that you don't feel you're missing out by not having more, and we think that's how you'll feel about Chilli Heat, which has two.
Free Spins is the first one, and is connected to the sun bonus symbol. That symbol can only land on reels two, three, and four, and you'll need all three of them to turn up for you on the same spin to trigger the feature. Your reward is 8 free spins, although you can add to that if you land the sun symbols in a group of three again while the round is active. While 8 isn't a massive number in the context of other modern online casino games, Chilli Heat helps you out a little while they're happening. It removes every low-value symbol from the reels for all eight spins, and so there's less clutter getting in the way of your winning combinations.
Money Respins is, in our opinion, the better of the two bonus features. The money bag bonus symbols in this casino game have a habit of stacking when they land. Land six of them anywhere in sight, and they'll lock into place for three re-spins, during which your mission is to find more money bags. We feel we should point out that you can actually trigger money respins from inside the free spins feature, and we actually think it's easier to do it that way. Because the playing card symbols have been removed, there's less getting in the way of money bags landing, and therefore more chance you'll grab the six you need.
Every time you find another money bag symbol during your three respins, you'll be given one more spin. The round ends when you've spun three times without seeing any more money bags to add to your collection. At that point, the combined value which is printed on the money bag symbols will be awarded to you. If luck is on your side, and you're able to fill every space in sight with money bags, then Chilli Heat will pay out its jackpot of 1000x against your initial stake. Chilli Heat is an online casino game with a great visual style, an atmosphere that's easy to enjoy, and a couple of bonus features which can work out very nicely for you - especially if you can get them to work together! We're glad to be able to offer it to you through our VIP casino, and we hope you love it.