Fluffy Favourites Fairground Casino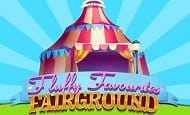 Fluffy Favourites Casino - Starburst Casino - VIP Slots
Fluffy Favourites Fairground is a five reels, twenty-five paylines casino game by Eyecon. Fluffy Favourites Fairground has Wild, Scatter symbols, Free Spins, and Bonus Game features, and an RTP of 95.3%. Fluffy Favourites Fairground is part of our VIP slots casino offering to VIP Spins members, along with over 700 more great online casino games like Blackjack, Roulette, Rainbow Riches, and Starburst.
The majority of people reading this review will already know all about the legendary series of online casino games from Eyecon which bear the Fluffy Favourites name. The whole genre of casino games based on cute characters was almost invented by Eyecon when they released the first game in the series back in 2006, and since then they've added to them with several sequels. The first was Fluffy Too, and the third is this VIP slots game, which sometimes goes by the shortened title of Fluffy Fairground. The name gives you a strong clue as to the setting for the game, but in many ways, it's just more of the same fun, with a fresh lick of paint!
Cute visuals and an overload of adorability are the order of the day in Fluffy Favourites games. The old way of thinking would suggest that people wanted their casino games to be more 'manly,' but that's before developers realized that women play casino games as much as men do, and that everyone secretly loves cuddly toys and stuffed animals. Many of us have never been able to bring ourselves to get rid of one or two of our best cuddly friends from childhood. In Fluffy Favourites games, stuffed toys come to life, and help us win money. It was a highly original - and probably risky - idea for Eyecon to try as a theme, but over a decade later they're still doing very well with it. Compared to the first game, this is a major upgrade in the visuals. The stuffed toys used to be 2D, but here they're all 3D rendered and HD sharp. Nothing has been lost from their character though; they're as huggable here as they always have been.
A couple of simple background images establishes the fairground setting of the casino game. On one side of the reels, you'll see a big wheel, and on the other, you'll find a circus tent. A rainbow arches high in the sky, completing the framing, and reminding us of a certain television show we grew up with starring Geoffrey, Zippy, George, and Bungle (if you're under 30, ask an older relative to explain that to you). Animals of all kinds are represented in a stuffed-toy format on the reels, and the whole gang from the first game are back, along with some new friends!
In order of how valuable they are as symbols, there's the clownfish, then a panda, followed by a lion and a rhino, a cuddly duck, a cute hippo, a turtle, a dragon, a big friendly giraffe, and then a gorilla. Your wild symbol is a pink elephant, and he can replace all of the other toys to complete one of the 25 paylines. When he does so, he doubles the value of that win. Only the big top symbol is immune to being replaced by the wild, and that's because it's the game's scatter, and is there to help you gain access to the bonus features.
Similar Themed Games With Fluffy Favourites Fairground
Design geniuses as they are, not even Eyecon could have predicted the wild success of Fluffy Favourites back in 2006 when they released it. They'd been experimenting with the format of online casino games for a few years, beginning with Temple of Iris in 2003. Even with their first creation, they impressed players - the game is still so popular that we include it in our VIP casino offering! Six billion people play Eyecon online casino games every year. We don't know what percentage of those players are playing Fluffy Favourites or one of the sequels, but we wouldn't mind betting it was a significant number. We know how popular they are at VIP Spins!
Similar Featured Games With Fluffy Favourites Fairground
The Australian development team doesn't release new casino games every month - sometimes, not even one every two months - but they do know how to put a game together that will encourage players to come back for more. White Wizard VIP slots game is another game from them which has been adapted into both a jackpot version in a sequel in the form of White Wizard Deluxe, and Shaman's Dream led to the creation of Shaman Spirit. Why waste your time throwing ideas against the wall to see what sticks when you already know what your audience wants, and you have the skills to give them more of it?  
Fluffy Favourites Fairground Bonus Features
When Eyecon releases Fluffy Favourites games, they like to give an old childhood amusement or fairground game a casino twist. In the first game, it was the old 'grab a stuffed toy from a glass case with a claw' trick, but they've taken a different route this time. It's just as cute, and just as nostalgic. Hook A Fluffy is the feature we're talking about, and if you've ever played Hook A Duck - either as a child or with your old children - you'll likely know what it entails. The round is triggered by landing three, four, or five of the big top scatter symbols. That allows you three, four, or five choices from the parade of cuddly toys which will be making their way around a water slide, on a new screen you'll be taken to.
Just go in with your hook, and fish them out of the water. Each one has a multiplier to give you. One of them is a big x100 against your stake, and so having more choices gives you a better chance of locating it. Free Spins are also in the game, as they are in almost all of Eyecon's online casino games. This round is triggered by the elephant instead of the big top scatter - as well as being a multiplier and a wild; he's also a secondary scatter. What a busy creature! Three, four, or five elephants get you fifteen, twenty, or twenty-five free spins. This a highly rewarding free spins feature; it automatically gives you a 3x multiplier on the value of all the wins you find while it's in play. If the pink elephant gets involved in any of those wins, that jumps up to x6. Finding at least three more pink elephants on one spin will trigger the round again, giving you a fresh set of spins to play with.
The Gamble Feature Eyecon frequently include is here as well, and is virtually identical to the equivalent feature you'll likely have come across in many other online casino games. If you so desire, put the value of your last win on the line in a straight 50/50 bet against the game. You'll be given two options to pick from; one of them doubles your takings, the other costs you them. Nobody is going to make you take the gamble, so it's down to how you feel about risk and reward! Just like the other casino games in the series, Fluffy Favourites Fairground exists to enchant and delight you. Don't let the cuteness put you off though; it's got just as many features as many more 'serious' casino games, and is more than a match for anything you'd put against it. There' a reason why this series is legendary. Play it and find out!