Great Rhino Casino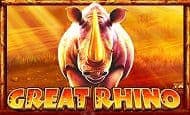 Fluffy Favourites Casino - Starburst Casino - VIP Slots
Great Rhino is a five reel, 20 paylines casino game by Pragmatic Play. Great Rhino has Wild, Scatter symbols, Free Spins, Respins, and Jackpot features, and an RTP of 96.53%. Great Rhino is one of the great online casino games offered in the VIP slots casino here at VIP spins, along with over 700 more including Blackjack, Roulette, Rainbow Riches, and Starburst.
At the risk of stating the obvious, Pragmatic Play enjoy working with the theme of animals and nature. Not content with winning awards for Wolf Gold, or wowing us with Hot Safari, they've also brought us Great Rhino. If you also count Safari King in among the number, you could consider Great Rhino to be part of a safari trilogy. Perhaps, having created a couple of casino games which involve the usual cast of animals, they decided the rhino was getting short shrift. It's an impressive beast, but seems to sit in the pecking order below lions, elephants, and even the great ape when it comes to having online casino games built in its honor.
Pragmatic Play's easily-identifiable style runs richly through this game, and as it's a recent release from 2018, it captures them at the peak of their powers. Great Rhino is atmospheric, sharp, well-animated at every turn, and backed up by music which adds to the theme instead of distracting for it. Having constant music in an online casino game is always a risk - who among us hasn't been forced to turn the sound off after hearing a repetitive tune return to the start for the twentieth time - but the authenticity of the music here really helps to build the mood of the casino game. It may have been Wolf Gold which walked off with the prizes last year, but Pragmatic Play's main competition came from themselves, with Great Rhino.
The whole of the screen upon which Great Rhino is played is occupied by the reels; there isn't even a hint of background. Normally, when that's the case, we're playing with a 5x4 or even 5x5 set, but this is a standard 5x3 reel and row arrangement. The symbols are just extra large; perhaps designed that way to do justice to the beauty of the animals on them. Away from the animals, the least valuable symbols on offer are, as always, playing cards. They go from J to A, and then they're followed in sequence by a flamingo, a toothy crocodile, an angry-looking leopard, and the Great Rhino him or herself.
As Great Rhino VIP slots game is a rare chance for this noble beast to shine, it pulls double duty. As well as being the top-value symbol within the base game, another rhino symbol (on a circular blue background) is the wild. It replaces all over symbols to make winning lines - including the other rhino - but can't replace the scatter. The scatter is an exotic tree which only grows in Africa, and is called a baobab. Never try telling us that playing online casino games isn't sometimes educational; we had to look that up! You'll see baobabs on the middle three reels only, but when they do grace you with their presence, they're your route to the bonus features.  
Similar Themed Games With Great Rhino
Great Rhino. Hot Safari. Safari King. Mustang Gold. Wolf Gold. What does that tell you about Pragmatic Play and animals? The developer has historically been at their best when they've put their minds to coming up with a new casino game using the nature theme, although it's not the only thing they're good at. The Maltese company, who have been trading for a little over twelve years, have managed to expand from their original base to take on offices in England, India, and elsewhere in Europe because they're exceptionally good at what they do.
Pragmatic Play doesn't push the boundaries. They know what players want, and they cater to the people who want to be able to load a casino game and play it without having to spend time reading paytables, or online guides. Every casino game they come up with looks great, and plays even better. They've blended stunning graphics with simple play to create games that feel special.
Similar Featured Games With Great Rhino
We don't want you to come away from this review thinking that every Pragmatic Play casino game is a simple 5x3, 20 payline affair though. If you go and find Pixie Wings in our VIP slots casino library, you'll see that they do sometimes go broader and deeper with their ideas. With over 150 casino games to their name, and a release schedule that seems to have them booked up all the way into 2020 and beyond, who knows what they might try next?
Great Rhino Bonus Features
If you've played Pragmatic Play casino games before then you're likely to know what you're about to read here; the developer never pushes too far away from the base game with its bonus features. Having created an atmospheric world, they always seem reluctant to shatter the illusion by abruptly jumping away into side games, so the bonuses they offer tend to be traditional ones which offer good value.
Free Spins are your reward if you're able to make baobabs appear as a trio on the same spin, and you get ten of them. No re-triggers, no multipliers, no frills. That may sound somewhat miserly, but there is a little extra that comes with the free spins feature; both rhino symbols are now wild. They don't act independently of each other either, so if you were to land (for example) a crocodile, a base game rhino symbol, and then the wild rhino symbol in a line of three, you'd get a payout based on the value of the crocodile symbol.
Better rewards can be obtained if you can pull off Super Respins. As we should probably have mentioned before now, the base game rhino symbol has a habit of stacking when it lands. If two whole feels fill with rhino symbols at the same time, they'll lock into place and become sticky. You now have three respins with which to fill every other space on the reels with rhinos. Each time you spin and find one, you get an extra respin - therefore the feature will only end if you've spun three times with no new rhinos appearing, or when you've successfully landed rhinos everywhere in sight. The top jackpot in Great Rhino - which is displayed on the screen - is reserved for those who can conjure all fifteen rhinos, but just getting close will still win you a lot of money.
The runaway success of Great Rhino last year surprised some people, who thought it was a little too basic to attract players in the way that it did. It serves as a reminder that online casino games don't have to be complex or clever to attract attention; they just need to be great. Great Rhino is indeed great, and we're proud to be able to offer it to you at our VIP casino.