Hit It Big Casino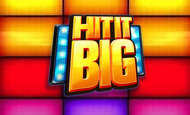 Fluffy Favourites Casino - Starburst Casino - VIP Slots
Hit It Big is a 5 reels, 5 paylines casino game by Elk Studios. Hit It Big has Wild, Bonus Symbols, Multiplier, Bonus game, Stacking symbols, and Respins features, and an RTP of 96%. You can play Hit It Big right here with VIP Spins in our VIP slots casino, which also hosts over 700 great online casino games like Blackjack, Roulette, Rainbow Riches, and Starburst.
Watching TV gameshows is something of a national obsession for the British. From 'Pointless' to 'The Chase,' every major broadcast channel in the country includes at least one flagship gameshow to pull in the viewers - and that's despite the fact the cash prizes tend to be pathetically low when compared to the amounts contestants can expect to win in America! If you can pull off a big win in Hit It Big by Elk Studios, though, you won't feel like you've been hard done to at all. This might be the best gameshow you could ever compete in, and you won't even need to leave your home to do it!
Someone who works on the design team at Elk Studios is clearly a big lover of those old, classic game shows. They've got the atmosphere bang on, right down to the voice of the narrator, who both welcomes you to the show, and comments on your performance as you play the game. The game shows of the 1980s and 1990s appear to have been an especially rich source of inspiration; from the design of the reels to the decor of the fictional game show studio, this wouldn't have looked out of place on television during those years.
Given that this is an online casino game inspired by the idea of competing for big money prizes on a game show, you'd expect there to be a hatful of bonus features on offer, and there are. Hit It Big VIP slots game focuses on bonus offerings far more than the majority of online casino games, and so the base game is quite basic when compared to other games at our VIP casino. The (slightly squashed) 5x3 reel-and-row layout doesn't play host to all that may symbols. In order of value, the base game symbols go bar, two bars, three bars, Lucky 7 in green, Lucky 7 in blue, Lucky 7 in red, and then sitting on top is a set of three Lucky 7 symbols decked out in gold. The crown symbol is the wild, and can replace any of the aforementioned symbols to assist with the completion of winning lines. While there are no scatter symbols in Hit It Big, there are a few bonus symbols - but they never land on the reels. Instead, you'll see them above or below the reels! Let's discuss them in more detail within the bonus features section.
Similar Themed Games With Hit It Big
Although Elk Studios have been around for a good few years now, having set up shop in 2012, they haven't yet released all that many online casino games which we're able to bring to you at our VIP casino. What we do have from them is great - Chi, with its oriental cats and almost spiritual feel, is another shining example of their work - we just wish we had some more!
Similar Featured Games With Hit It Big
The Swedish provider is based in the same city - Stockholm, Sweden - as the much larger and more well known Net Entertainment. There's a slight visual similarity between the style of their online casino games, which makes us wonder whether some staff members have moved between the two companies, but they have no formal connection that we're aware of. According to the official biography on Elk Studios' website, for all of their graphical expertise, it's their mathematical ability they're most proud of. While numbers give most of us a headache, it's pure maths that drive the performance of great online casino games, and so those geniuses working behind the scenes at Elk have our thanks!
Hit It Big Bonus Features
It's within the bonus features that Hit It Big VIP slots game really comes into its own, and we're really not sure if we've ever played any other online casino games like it. It's novel, it's clever, and most importantly of all, it's a lot of fun. The Reel Game Feature is in play all the time during the base game, and it's all about the little buttons you'll see at the top and bottom of each reel. As you spin the reels, what's printed on those buttons will change. When what's printed on the top matches whatever's printed on the bottom, you'll immediately win the stated prize. That might be one of four things.
Locked Wilds are, to all intents and purposes, sticky wilds. Reels one and five get stacked up with sticky wilds, and they'll freeze into place for three free spins. Stacked Wilds is a not-as-good variant of Locked Wilds. It will produce a stack of wilds on whichever reel is covered by the buttons, which will then be assessed against the contents of the reels as they stand to see if you've won anything. You don't get any free spins out of this one. Re-spin is a single free spin, with no extra perks or treats. Still, it's better than nothing! Multiplier is probably the one you really want to see. You're guaranteed a prize now, and it'll be a multiple of your stake. At the lower end, that might be a mere x2. At the top end, it can be as high as x50!
As any of those effects can happen on any spin, you always feel like you have something extra to play for on top of the base game. If you see three Hit It Big logo symbols land on your reels during the base game, though, you'll be playing the Hit It Big Bonus, and this is where the whole 'TV game show' idea really comes to life! On the big screen above the reels, you'll see a series of fabulous gameshow prizes. Your reactions are about to be put to the test! Every prize on the board is hiding a multiplier. A marker will quickly move across them, going up and down and left and right, and it'll stop whenever you hit the 'stop' button. When you've claimed a prize and banked the multiplier, it'll be replaced by a red-faced devil which is known as the Bandit symbol. Avoid landing on the Bandit - if you do, your bonus feature is over!
As well as the prizes, there's also an 'up' arrow on the screen. Stopping the marker on that increases the value of the multipliers on offer. You can move up through three levels of prizes, at the top of which is a multiplier worth one thousand times your initial bet. Once you've started moving up, be sure you don't accidentally hit the 'down' arrow - it'll take you back to where you were previously, with less valuable prizes. Hit It Big is probably as close as you'll get to appearing on a game show without facing a television camera, right down to the feeling of delight when you win money from it! It looks great, and it's truly original. Well done, Elk Studios. We're very impressed!