Irish Luck Casino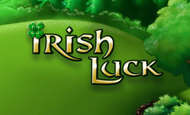 Fluffy Favourites Casino - Starburst Casino - VIP Slots
Irish Luck is a five reel, 25 paylines casino game by Eyecon. Irish Luck has Wild, Bonus symbol, Bonus game, Free Spins, Multiplier, and Gamble features, and an RTP of 95%. Irish Luck is available to VIP slots casino players here at VIP Spins, which also plays host to over 700 more great online slots games, including Blackjack, Roulette, Rainbow Riches, and Starburst. What would the world of online VIP slots games look like if nobody had ever come up with the Irish genre? We've seen it so many times now that we can't imagine what a casino might look like without them. The good people of Ireland aren't always necessarily flattered by the way they're depicted in these casino games, but they're a treasured and classic genre for everybody else.
There's always been a connection in peoples minds between the Emerald Isle and the idea of being lucky; even the phrase 'the luck of the Irish' refers to the supposed habit that Irish miners had of striking rich during the California Gold Rush of the 19th century. Then there's lucky heather, and lucky clover, and lucky leprechauns. The list goes on! Our VIP slots casino has several different takes on the Irish genre available, all of which are competing for your attention with the legendary series of Rainbow Riches games by Barcrest. Both on and offline, the Rainbow Riches casino games are incredibly popular, having been advertised on television and used on posters to attract people into land-based casinos and amusement arcades. When one game gets all the attention, it can be hard for others to break through.
If anyone's capable of doing great things with a theme, though, it's Eyecon. Irish Luck is Eyecon giving it their very best shot, and in our humble opinion, we think they've come up with something worthy of being mentioned in the same sentence as Rainbow Riches. We emphasize the name of Eyecon as the developer here, because two online casino games are using the 'Irish Luck' name. The other, an old Playtech game, isn't the one we're talking about today. We're not saying there's anything wrong with it - it's just that the Eyecon game tends to be better-reviewed, and that's why it's here at VIP Spins. There are a lot of visual traits which Irish Luck and Rainbow Riches have in common.
While some crossover is inevitable because there are only so many different ways you can dress up a stereotypical Irish theme, we have to wonder if Eyecon did at least some of this on purpose. The inclusion of a colorful rainbow above the reels, in particular, really makes us raise an eyebrow! The bold green tone of the background imagery is broadly the same, and so is the cartoonish way in which the graphics have been designed. Eyecon have always gone for that style, though, and so they shouldn't be accused of borrowing from Barcrest just because of that. On the reels, if you've ever played an Irish-themed casino game before, you know what to expect here. The coins are the least valuable symbols, and they're followed by foaming pints of beer, a toadstool, a crumbling castle, a rainbow symbol, the leprechaun's pot of gold, and a special money tree which has coins where it should bear fruit!
Irish Luck, like many of Eyecon's more ambitious online casino games, is full of bonus features. To get to those bonus features, we need bonus symbols to trigger them. The wild symbol, represented by a four-leaf clover, is the first of them. Any of the base game symbols can be replaced by the wild, and new winning lines will be formed by doing so. The letters that spell 'IRISH' can land on the reels from left to right as well. The more of the word you spell out on one spin, the better your prize will be. Landing all five of them in order nets you 3000x against your bet. Two more character symbols will land on your reels, too; one is a fairy, and one is a leprechaun. They're the ones who'll open up the fuller bonus features for you.
Similar Themed Games With Irish Luck
From the day in 1999 when Australian casino game developer Eyecon decided that they were going to stop making video games, and start making online casino games instead, they've been a major force within the industry; and they've done it without releasing hundreds of casino games. We associate Eyecon with the quirky, the cartoonish, and the outright fun. They have a whole host of character-driven casino games, often delivered with a slice of cuteness, and a raft of bonus features. They do free spins rounds better than anybody else.
Similar Featured Games With Irish Luck
We probably don't need to tell you where to look to find their most famous creation; it's Fluffy Favourites, the 2006 game which has since been followed up with multiple sequels and is played thousands of times a day all over the world. They didn't just invent a casino game when they came up with the cuddly-toy themed game; they invented a genre and a franchise. Since then, they've had success with other off-kilter casino games like Vlad's Castle and Caravan to Cairo, but we think Irish Luck might just be the best non-Fluffy Favourites casino game in the Eyecon collection. It's certainly among the best of the Irish games at this VIP casino.
Irish Luck Bonus Features
The first bonus game on offer in Irish Luck is a classic Prize Pick round, which you can gain access to by landing multiples of the leprechaun bonus symbol. Three is enough to do the trick - although more is better - and upon landing them, you'll be taken to a different screen. Here, behind each matching symbol you can see will be either a leprechaun or a fairy. If you land three bonus symbols to get here, you can choose three of the objects to find out what's behind them. If you landed four or five, you get four or five picks. Finding fairies gives you multipliers, which are factored against your stake, and awarded to you as a cash win.
A leprechaun is worth ten free spins, which will commence when you're out of picks. The value of all wins during free spins is trebled in comparison to their value during the base game. The fairy has a different bonus game to offer you, so land three of her to play Match and Win. This is also a prize-pick, but it works a little bit more like a standard scratchcard. Click on any of the clover symbols in view to reveal what's behind them. When you have a matching pair, that's what you win! All of the prizes on offer are multipliers, and one of them is x100.
The majority of Eyecon's online casino games contain their usual Gamble Feature, which works the same way here as it does everywhere else. It's a game of 50/50 chance, which you might be offered after you've had a win. Accept the gamble, and you'll be asked to make a selection from two objects. One of them will double whatever you've won, and the other one will take it away from you. Our favorite part of Irish Luck is, without doubt, the Prize Pick. Being able to win instant multipliers and then go on to play free spins after you've already won something is a real treat, and is more generous than your average casino game. Irish Luck is superb, and figures among the very best of Eyecon's work.