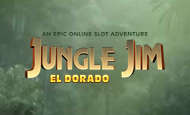 Fluffy Favourites Casino - Starburst Casino - VIP Slots
Hidden treasures to win of real money are waiting to be discovered in an exotic jungle and Microgaming has teamed you up with an Indian Jones like explorer for this exciting adventure. The transparent reels of Jungle Jim: El Dorado online VIP slots place you on top of ancient ruins within a dense Jungle. Vines and tropical leaves are everywhere and your charming guide, Jungle Jim, stands beside the reels. The animated Jim occasionally swats a fly, rests on his shovel, or refreshes with water.
Visually, Jungle Jim: El Dorado online VIP slots is amazing with detailed 3D cartoon style graphics. The high to medium value symbols are a treasure chest of gold, an Aztec statue, a Dragon ornament, and an ornament with wings. The Wild symbol is the Jungle Jim logo and there is a golden amulet Scatter. The background sounds make you feel like you're in the jungle with chirping birds and other animal noises.