Tomb Raider Casino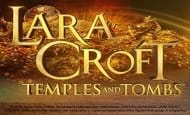 Fluffy Favourites Casino - Starburst Casino - VIP Slots
Lara Croft: Temples And Tombs is a 5 reels, 243 paylines casino game by Triple Edge Studios. Lara Croft: Temples And Tombs has Wild, Bonus Symbols, Collapsing Wins, Jackpot Prize, and Free Spins features, and an RTP of 96.05%. Lara Croft: Temples And Tombs is available within our VIP casino, so play it with us at VIP spins! We also offer over 700 leading VIP slots casino games, including Blackjack, Roulette, Rainbow Riches, and Starburst.
There was a time when playing video games was considered to be the pastime of nerds and geeks. That isn't the case now - many people earn their living just by playing games and letting other people watch them do it on YouTube and Twitch! The perception started to change during the mid-1990s, when the first PlayStation console was released, and the general quality of games started to get better. Lara Croft and the 'Tomb Raider' franchise were right at the spearhead of that shift in perception. She may even have eclipsed Mario and Luigi in terms of famous video game characters. The ten 'Tomb Raider' video games have been backed up by three big-screen movies. When you've been played in a film by Angelina Jolie, it's probably fair to say you're a big deal!
The companies who make online casino games love it when they have access to a popular theme - they know there's a player base out there who are already interested, and so tempting them in to play becomes easier. We don't know if Triple Edge Studios did a deal with Lara's 'owner' Eidos or not, but they've done a great job of bringing the excitement of Lara and her tomb raiding adventures to the reels.
Lara Croft: Temples and Tombs VIP slots game, is still hot off the press at the time of writing. It came out in May 2019, and it's a big casino game. Despite 'only' having the familiar layout of five reels and three rows, there are 243 distinct and different ways to win. That's because this casino game - much like Lara herself - doesn't play by the rules. You don't need a perfect row of matching symbols to get paid out here; you only need to have matching symbols on reels which are next to each other. You'll still earn more for those perfect rows, but it makes a big difference to win something for all those near misses.
As is Lara's career choice, she's broken open a tomb to give us access to the treasure within it. The reels are laid into a shattered wall, which is bathed in a yellow light. Around the broken masonry, everything is dark blue, as if it were the middle of the night. Everything on the reels either belongs to Lara, or belongs to the tomb she's in the middle of excavating. You'll see her water bottle (tomb raiding is thirsty work!), her trusty torch, a rope and hook to scale walls with, and her traveler's backpack.
A pair of ornate looking Egyptian sculptures depicting Gods are the middle-value symbols, and then at the top, we have four different Lara Croft symbols, which will delight anyone who has posters of her on their wall when they were younger (or even if they still do now. We're not judging you!). In loose keeping with the slight Egyptian tone created by those God sculptures, the wild symbol in Lara Croft: Temples and Tombs is the ankh, and it can replace everything other than the bonus symbol to help create paylines. The bonus symbol is Lara's personal diary - which probably makes for a great read. The diary contains the secret to triggering the bonuses.
Similar Themed Games With Lara Croft: Temples And Tombs
When a new online casino games developer emerges onto the scene, it usually takes them a little while to find their feet. You'll see them release one or two basic-looking games just to test out their abilities, and then they'll start to really show you what they're capable of. Triple Edge Studios appear to have bucked that trend. They may not currently have many casino games available, but everything they've released so far has been of the highest quality. We've been delighted to have Ancient Fortunes: Zeus and Bookie of Odds at our VIP casino, and Lara Croft: Temples and Tombs is just as good - if not better!
Similar Featured Games With Lara Croft: Temples And Tombs
Triple Edge's access to the global market is helped along immeasurably by their partnership with Microgaming, who is one of the biggest names in the entire casino games industry. Through Microgaming, the upstart developer has access to casinos like ours, and can attract thousands more players to their games than they could otherwise reach. Microgaming do very well out of the deal as well, but the real winners are the players, who get access to these fantastic games! Triple Edge has shown us as much variety of theming as they have skill so far - we're already looking forward to whatever they bring us next.
Lara Croft: Temples And Tombs Bonus Features
Making casino games based on video games usually calls for a bonus-heavy approach. We have a few of them within our VIP casino, and we tend to see the same pattern. Your video game-themed casino game might well attract players of that video game, but they'll only stick around to play it if it feels like there's something video-game like going on! Any hardened 'Tomb Raider' fan playing this game won't be disappointed.
For a start, we have the always-exciting Collapsing Wins feature to contend with. We're seeing more and more developers include collapsing wins within their online casino games, and we can understand why. Each time you win something - no matter how small that win might be - the symbols which make up the win will vanish, and new ones will take their place. The reels are then checked again for more wins, and if there are any to be found, the sequence will repeat until no new wins can be created. Best of all, every time you land a collapsing win, the multiplier applied to the next collapsing win increases by 1x. That's subject to a maximum of five, so put together five wins on the bounce from one spin to see a steadily-increasing cash result.
There's also a Jackpot Prize Feature in Lara Croft: Temples and Tombs, and it's all about those wild ankh symbols. You might notice that some of the ankhs have little gold coins on them. When they land, those coins are collected, and are sucked up into a big pot just above your reels. When the pot is full, the jackpot game triggers, and you're playing for a chance at an x5000 multiplier! Even if you don't get it, you'll still come away with a worthwhile prize.
Last and probably least is Free Spins, which is triggered by landing three of the diary bonus symbols anywhere on the reels. That gets you eight free spins, which you can trigger again if you're very lucky and find three more diaries while they're happening, but there's nothing else to them in terms of adjustments to the symbols, or automatic multipliers. It does pair up very nicely with the collapsing wins bonus, though. Lara Croft: Temples and Tombs is the casino game that Lara herself deserves. She looks as good - if not better - here than she does in many of the video games that bear her name, and there's plenty of treasure in this tomb for you to go chasing after.