Magic of Pandora Casino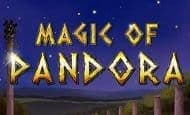 Fluffy Favourites Casino - Starburst Casino - VIP Slots
Magic of Pandora is a 5 reels, 25 paylines casino game by 2by2 Gaming. Magic of Pandora has Wild, Bonus symbol, Free Spins, and Reel Modifier features, and an RTP of 96.05%. You can enjoy the Magic of Pandora right here with VIP Spin in our VIP slots casino, which contains over 700 more leading online casino games, including Blackjack, Roulette, Rainbow Riches, and Starburst.
Once upon a time, there was a normal human girl in Ancient Greece, who the Gods saw fit to entrust with a box that contained all the potential sin in the world. She was given strict instructions never to open that box under any circumstances. As she was only human, she ultimately ended up opening it, and so all the sin we have in the modern world is because of Pandora. We can't help but feel that something so powerful should have been left in the hands of the Gods, but apparently, they disagreed. That strange tale is the story of Pandora according to Greek myth, and is also the theme for the Magic of Pandora casino game by 2by2 Gaming.
In truth, it's nice to see a developer making online VIP slots casino games which use the Greek theme, but aren't either set at the top of Mount Olympus, or all about the power and wonder of Zeus. Fantasy and folklore have always been popular themes for casino games, but more often than not, it's the same old names you see represented. Pandora, for such an important figure, rarely gets the time day. Variety is almost always a good thing, so this game feels like something new.
Pleasingly, what 2by2 have given us is a very good looking casino game. The choice of a garden as a background location is something of a strange one - as it doesn't have a clear connection to the legend - but it makes for some pretty scenery. The quality of all the graphics and animations is high, save for one strange stylistic choice at the bottom of the screen. Somebody decided to house all of the buttons and important information in basic gray boxes, which look like the kind of pop up notifications you used to get when older versions of Microsoft Windows generated error messages. We could do without being reminded of that!
On the reels, which are very much front and center in terms of the way this VIP slots game is presented, the playing card suits of hearts, diamonds, clubs, and spades are the four low values. After that, we have an ancient Greek vase, a dove, a brown bird, a torch, a mystery bearded male (possibly a Greek God we're not familiar with?), and the very beautiful Pandora. The Magic of Pandora logo is the wild symbol in this game, and replaces everything apart from the bonus symbol to assist with the creation of winning combinations. The bonus symbol - which has 'bonus' written on it so you can be sure of its function - is your way into some of the many wild and wonderful bonus features that Magic of Pandora has to offer.  
Similar Themed Games With Magic of Pandora
The name that appears when you load Magic of Pandora is that of Microgaming; they're an online casino games giant who has been involved in the digital age of casino games since the day it began, and has a massive global reach. They frequently partner with smaller developers to bring new casino games to the market, and that's how we've been able to bring Magic of Pandora to you at our VIP casino.
Similar Featured Games With Magic of Pandora
2 By 2 Gaming may not have the worldwide reputation of Microgaming, but between their senior staff, they have over a century of hands-on experience making casino games, and know how to put a fun one together. Based out in Chicago, USA, they've historically been busier supplying their home nation with casino entertainment than releasing games to the wider world, but now they have Microgaming on their side, that may be about to change. We at VIP Spins are always open to exciting new online casino games from new sources, so as and when they have something else great to bring us, we'll make sure it's available to our players.
Magic of Pandora Bonus Features
We've always been pleased to see random reel modifiers included in online casino games. We don't expect them to be big rewards, but if you've been struggling to trigger a larger bonus feature, getting a little win from a reel modifier can be the encouragement you need to keep on going. Magic of Pandora has three of them, but 2by2 Gaming has been clever enough to also integrate them into the primary bonus as well.
On any spin - and without any specific trigger - Pandora's Box might appear in the center of the reels, and release something into your game. Instead of a sin, though, it'll be a bonus reward. Reward one is Wild Reels, and on balance we think this is the best feature of the three. When snakes come out of the box, they'll touch either one or two of the middle three reels, turning them into stacked wilds in the process. Those stacked reels stay where they are for your next spin. As a slightly lesser prize, you might get Extra Wilds, which results in a random number of additional wilds being added to your reels on the next spin, with your chances of a win rising accordingly. If you get Extra Paylines, the number of paylines for the next spin of the reels doubles. That opens up fifty of them, so smaller wins are now easier to come by.
Having any of the above effects in place for one spin is a nice little treat, but who wants one spin when you can have them there for several? To make that happen, you have to trigger the Free Spins feature. To land it, the more bonus symbols on the reels, the better a time you're going to have! You'll get eight free spins for three bonus symbols, which increases to twelve for four at once, with the maximum award being sixteen free spins for five symbols. Should Pandora's Box turn up randomly on screen at any point during free spins, it will bring four extra spins with it on top of whatever you've already got.
The best thing about the free spins is that you're free to select any of the effects that Pandora's Box is able to conjure, and have them to apply for all of your free spins. Sixteen spins with one or two wild reels is a great reward, but would you be better off having twice as many paylines instead? If you find that decision too hard to make, why not have both? Split your spins up between the features if you like, and have two or three on each of them.
You're almost building your own free spins round, which gives you greater control over the way your game is going then most online casino games which have a free spins feature within our VIP casino. Magic of Pandora takes the premise of the 'mystery box' Greek legend idea, blends it in seamlessly with the theme, and turns it into the basis of a great casino game. Unlike Pandora, you won't find yourself overwhelmed by evil when this box opens - you'll just get more and more ways to enjoy the game.