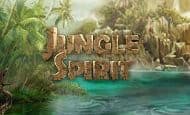 Fluffy Favourites Casino - Starburst Casino - VIP Slots
With 1024 ways to win real money and exciting Bonus Features, you will want to become an animal whisperer to tame the many dangerous Jungle predators NetEnt has roaring on the reels. The backdrop to Jungle Spirit: Call of the Wild online VIP slots depicts an exotic jungle with a tangle of lush green leaves and vines. Around the reels are the beautiful specks of light that are gently fluttering Butterflies.
The fearsome predators compose the high and low value symbols: a Tiger, an Elephant, a Bear, an Alligator, and a Cobra. A pink lotus flower blooms as the Scatter. Standard playing cards A, K, Q, J, and 10, make the lower value symbols. The beautiful visuals, with 3D colours, immerse you into the enchanting Jungle environment. The predators come alive on wins, with swiping claws or fanged growls. A drum beat in the background reinforces the tension of the dangerous jungle.