Pixie Wings Casino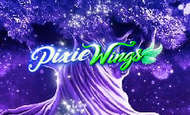 Fluffy Favourites Casino - Starburst Casino - VIP Slots
Pixie Wings is a 5 reels, 50 paylines casino game by Pragmatic Play. Pixie Wings has Wild, Additional Wild, Bonus Symbols, and Free Spins features, and an RTP of 96.51%. VIP Spins is happy to offer Pixie Wings as part of our VIP slots casino, which also hosts more than 700 other great online casino games, including Blackjack, Roulette, Rainbow Riches, and Starburst.
For some reason, we tend to think of pixies as being cute. The last century of television shows and Disney movies has convinced us that they're playful and friendly little imps, with magical powers which can sometimes help humans. That's a long way from how they originally started appearing in works of fiction. The pixies of old, in the fairy tales of centuries past, were malevolent entities that exist only to bring chaos. They liked to play cruel pranks on the human race, and often used their powers for evil. Fortunately, the pixies who appear in Pixie Wings by Pragmatic Play must have come from the more recent breed. They're on your side, and if they decide it's your lucky day, they'll help you walk away from Pixie Wings with some tidy profits!
It's only right that online VIP slots casino games which concern themselves with magic and fantasy go big on colorful themes, and very few developers do better than Pragmatic Play with this sort of style. The story-book background behind the reels, with its open green field and summery sky, is an ideal choice to set the tone. There isn't much room to catch a glimpse of the background, though, because we have a large 5x4 reel and row arrangement upon which to play the game.
The reels - all lovingly bound together with green foliage - play host to only nine base game symbols. That's a small set for a casino game with so much space to offer, but that isn't a bad thing. It gives you more chance of the right symbols connecting to bring you wins, and with fifty paylines to aim for, small wins come along here with pleasing regularity. The least valuable five are the same playing cards you see in most traditional casino games, and they run from 10 up to A.
The only other four basic symbols are all colorful pixie characters, each one identifiable by its unique color scheme. The green symbol is of comparatively low value, followed by its blue, purple, and yellow friends. You'll find that all the pixies stack when they land - although not as much as they can do in the bonus features, which we'll get to in a moment. The logo of this VIP slots casino game is the wild symbol, so whenever you see Pixie Wings on the reels, it will replace anything apart from the bonus symbol, helping to form winning combination when it does so. The scatter - which, out of necessity, is the only symbol which won't stack on arrival - is a tree.
Similar Themed Games With Pixie Wings
Almost every time we review online casino games by Pragmatic Play, we find ourselves talking about how they rarely vary from a 5x3 layout, and how their safe style appeals to those who like traditional online casino games. Every once in a while, they'll make a mockery of that description by offering us something completely different, as they have done in Pixie Wings! When you have more than 150 online casino games to your name, though, we suppose you can take the chance of varying things up occasionally.
The most impressive thing about that massive total of casino games is that it's taken Pragmatic Play barely a decade to reach it. When they registered as a business in Malta back in 2007, part of their opening pledge was to produce and release a minimum of one new online casino game every month of every year. They've not only held to that, but they've also exceeded it. Sometimes, they give us as many as three. If the number of casino games in our VIP casino is growing rapidly, Pragmatic Play is doing more than their fair share of contributing to that!
Similar Featured Games With Pixie Wings
The developer doesn't just do quantity, though; they also do quality. With smash hits like Wolf Gold under their belt, along with the similarly-popular Great Rhino and the visually-dramatic Ancient Egypt, they've been getting excellent reviews with almost everything they've released for years now. That success has turned them into a massive brand on the global stage; their story may have started in Malta, but you can now find Pragmatic Play offices in England, Ukraine, and India.
Pixie Wings Bonus Features
Bad news for fans of multiple bonus features - there's only one of them to be had in Pixie Wings. In better news, though, it's a really good one. It even allows you to exercise some control over how the feature plays out, which means you'll need to employ a little strategic thinking if you want to get the most out of it.
Landing three of the magic tree bonus symbols will get you through to the Free Spins feature. While the feature can't be completely triggered again once it's already started, you can add to however many spins you receive by finding more tree symbols when the spins are in progress. Every time you see one, one more free spin will be added to your allocation. As we've already said, there aren't that many symbols, so it's safe to expect at least one or two more additional spins at no cost. You'd be very unlucky not to get any.
The number of spins you'll get will be determined by which Pixie you'd like to play with. This is all about the value of those Pixie symbols; as the green is the least valuable, you'll get the most spins with it; eleven in total. The top-valued yellow Pixie brings you seven spins. Your selection is particularly important because when you've made it, that chosen Pixie will become the only one on your reels; and is also a colossal symbol of either 2x2 or 3x3.
If you like throwing things open to chance, you can ask the game to generate the feature randomly. Doing so could backfire spectacularly, or it could give you a better result than you'd have got from a conventional selection. At best, it might decide to stack the wild symbol instead of any of the Pixies, which has a massively positive impact on your winning potential, and up to twelve free spins. At worst, it might give you the green Pixie, and the bare minimum of three spins. This is a decision only you can make - it's down to how much control you want to have over the game, and how lucky you feel when you're making your choice.
With so few base game symbols, Pixie Wings is all about that free spins feature; there isn't much else too it. We don't have a huge number of online casino games at our VIP casino which offer you this degree of control over how such an important feature works, though, so it's a nice bit of variety, and makes us feel like we're a little more in control of our own destiny. If we had to sum Pixie Wings up in one word, we'd say 'magical.'