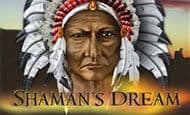 Fluffy Favourites Casino - Starburst Casino - VIP Slots
Reading the smoke signals with each spin of the 25 paylines in this creative Eyecon title could award you many chances to win real money. Visit a Native American tribe in the Wilderness and experience the magic and generosity of the respected Shaman. Behind the reels is the silhouette of a canyon not long after sunset, when the sky is still awash with colourful hues. Discover your inner spirit animal with each spin and you could be climbing the totem pole of generous payouts.
Of high to medium value symbols are the Shaman crowned with a feather headdress, a Native warrior ready to fight, a pretty Native princess, an Eagle, and a white Bison. There is also a White Wolf Wild and a Dream Catcher Scatter. Lower value symbols are represented by a Teepee, an arrow quiver, a bear catching a jumping salmon, a hatchet, a necklace, and a totem pole. Visually, Shamans Dream online slot impresses with beautiful illustrations and creative animations. For example, the white wolf Wild howls at the moon. There is no background music but instead sounds and jingles for wins and spins that build the excitement of gameplay. VIP Spins has the trail to the Native village in Shamans Dream online, where a welcome awaits you full of enchantment and opportunities for exciting payouts.