Super Burning Wins Casino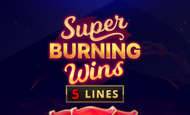 Fluffy Favourites Casino - Starburst Casino - VIP Slots
Super Burning Wins is a five reels, 5 paylines casino game by Playson. Super Burning Wins has a Multiplier feature, and an RTP of 96.27%. We offer Super Burning Wins as part of our VIP slots casino here at VIP Spins, where you'll also find over 700 more leading online slot games, including Blackjack, Roulette, Rainbow Riches, and Starburst. Super Burning Wins is one for the traditionalists. If you like online casino games with a classic feel, and like to spin the reels without worrying about how you might trigger complicated bonus features, you'll feel right at home playing it.
If that's not for you, we'll save you the time it's going to take you to read this review and tell you to head back to our library of casino games. We have something - usually several 'somethings' - for everybody within our VIP slots casino, and if you want bonus features, we have games that deliver them in spades. Super Burning Wins is all about taking you back in time to a quieter, simpler era in casino gaming history. It's made by Playson, who are increasingly seen as the master of the genre.
You might have encountered the name 'Burning Wins' before, and that's because this VIP slots game is one of a series that so far includes three casino games. The very first Burning Wins was a great example of casino gaming in its purest form; minimal paylines, zero bonus features, few symbols, and nothing but you and the reels. The third game Mega Burning Wins - which is the furthest removed from that - has multiple additional paylines, and a couple of bonus features which make it feel more like a modern casino game. Super Burning Wins is the happy medium between the two. There's a tiny little extra feature which sets it apart from the first game, but no free spins rounds or other bonus features that move it too far away from the 'classic' genre. If you want to try them all out and find out which you'd prefer, then be our guest. The VIP casino at VIP Spins contains all of them!
Based on everything we've just said, you're likely expecting the presentation of Super Burning Wins to be a simple affair, and you'd be right to. The reel and row layout is three by three, meaning there are only nine positions on the reels for symbols. It's supposed to make you think of the old fruit machines of the past, and it achieves that objective. With so few spaces to fill, the last thing you need is too many symbols cluttering up the reels and making it hard to land winning lines, and so we don't have many. The least valuable is an 'X,' which only wins you your stake back even if you're able to line up three of them. Going upwards in terms of value, we then get (very juicy looking) cherries, some oranges, a trio of lemons, two plums, a pair of bar symbols, a couple of bells, and then Lucky 7 symbols in triplicate.
There aren't any more symbols to play with in Super Burning Wins, and nor should there be. In the grand old days of casino games, you didn't see wild symbols or scatter symbols; they're comparatively more recent inventions. For that reason, they're out! You probably think that must mean that we don't get a bonus feature in this casino game - and you're mostly right - but there are a couple of tweaks to differentiate this game from the first Burning Wins, and we're going to class them as bonuses.
Similar Themed Games With Super Burning Wins
It's not far to Playson to say that they only make classic-themed online casino games - because it isn't true - but it is fair to say that they've built their reputation around them. They've come back to the classical and traditional style time after time, somehow always managing to find a tiny new quirk that makes one game just different enough to their last release to merit releasing it. As well as the Burning Wins series, they've also come up with Lucky Staxx and Fruits and Jokers, all of which are different interpretations of the same basic ideas. With a gentle feature here or a couple more paylines there, Playson offers its players a range of ways to enjoy their preferred theme.
Similar Featured Games With Super Burning Wins
It's only been a few years since Playson first acquired a license to operate within the UK at all - the Malta-based company set up shop in 2012, and had to wait three years before they could begin serving UK customers. Now, with that license granted, we're happy to offer the best of their work to you at our VIP casino. If you'd like to get a feel for what else Playson do when they're not catering to their general audience, we're happy to recommend Mighty Africa or Legend of Cleopatra.  
Super Burning Wins Bonus Features
We've already told you not to expect a free spins round, and a game like this is never going to have anything like a prize picker, so don't fret if you're concerned that Playson is about to ruin the mood by putting something in this game that doesn't belong there! They know better than that. You'll find that many of the symbols in this casino game stack when they appear; often, they'll stack three high, and fill the whole reel they appear on. If you can fil all nine spaces with the same symbol, the combined value of all three winning lines will be doubled, to award you a jackpot payout.
The chances of doing so aren't as remote as you might think - because there aren't all that many symbols, and the ones we do have stack up for you, it's never out of the question. If you're able to pull this off, you'll be crossing your fingers and hope you manage to do it with one of the high-value symbols! As we said earlier, a winning line of black X's is only worth the same as your stake, so landing nine of them is only worth 3x your stake. Even doubled to 6x by the multiplier feature, that's still not anything to get excited about.
Contrast that with the value of the Lucky 7 symbol. A single line of three of those is worth 150x your line bet, meaning three lines of them comes in at 450x. Factor in the 2x multiplier, and that's a massive 900x your stake for filling the reels. Super Burning Wins might be very simple, but it's simplicity taken to new heights. Playson hasn't treated it as an excuse to take the day off with graphic design; the HD graphics are sleek and sharp. When you make winning lines, the symbols involved in your win catch fire, which is where the name of the game comes from. If you don't feel like you're getting a fair deal without wild symbols or bonuses, then this isn't one for you, but if you have happy memories of jamming coins into slot machines in pubs and bingo halls, then you'll probably love it.