White Wizard Deluxe Casino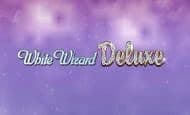 Fluffy Favourites Casino - Starburst Casino - VIP Slots
White Wizard Deluxe is a 5 reels, 100 paylines casino game by Eyecon. White Wizard Deluxe has WIld, Scatter symbols, Free Spins, Multiplier, Gamble, and Expanding Wild features, and an RTP of 95.5%. You can play White Wizard Deluxe in the VIP slots casino here at VIP spins, which also hosts over 700 more leading online casino games, such as Blackjack, Roulette, Rainbow Riches, and Starburst.
Eyecon knows a thing or two about making sequels to their most successful casino games. They're still finding new ways to add to the legend of their Fluffy Favourites franchise, but they're also getting a lot of mileage out of White Wizard. The original White Wizard casino game was first followed up by a jackpot version of the same game, and now it's been given an upgrade, and become White Wizard Deluxe. This isn't dramatically different from the first game, but there's enough that's new about it to make it worthy of a sequel. If you want to try them both and see which you prefer, you're in the right place to do so. They're both in our VIP casino!
You don't win any prizes for working out the theme of this magical casino game. The well-trodden world of magic - which we're sure used to be desperately uncool until Harry Potter came along and changed everything - serves as our setting. The white wizard who appears behind the reels even bears a passing resemblance to Dumbledore. For the muggles among you, white wizards practice friendly magic; the kind that improves lives and helps people. Black magic would more be the preserve of Dumbledore who uses it for the powers of evil. Our resident wizard is a friendly one, and he'll offer you plenty of help in your quest to win as much money from this casino game as possible.
Eyecon doesn't always cover themselves in glory with their graphics. Sometimes - as seen in the latest HD Fluffy Favourites online VIP slots casino games - they're as good as anybody else. On other occasions, as we have to admit the case is here with White Wizard Deluxe, we can't help but wonder if their usual graphic artist was on holiday. This is a basic looking casino game, which has the appearance of being much older than it is. The wizard is flat and two dimensional, the stars in the background are little more than sketches, and the silver-blue color scheme looks washed-out. Look past the questionable design choices, though, and you'll find a great game with some bonus features which are well worth sticking around to trigger.
The 'Deluxe' aspect of White Wizard Deluxe comes from the fact that it's a bigger game than its predecessor. The expanded 5x4 layout provides room for 100 paylines, meaning that you can expect to see regular small wins at the very least. With all that space to fill on the reels, the whole fleet of traditional playing card symbols from 9 all the way to A have been used as the low values, on top of which are a purple magic ball, what might be a wand or a broomstick, a magical unicorn, the wizard's spellbook, and a cauldron which is presumably full of magic potions.
The wizard is the wild in his own casino game, and as well as replacing every base game symbol to help you make wins, he applies a 3x multiplier to the value of all wins he's involved in. He's got a further party trick up his big sleeves, but we'll talk about that when we look at the bonus features. You'll only ever see the wizard on the first, third, and last reels. His blue pet dragon is the game's scatter, and as well as triggering a bonus feature, is the only symbol that the wizard is unable to substitute for.
Similar Themed Games With White Wizard Deluxe
The Eyecon formula usually relies on finding a theme that people already know and love, building a straightforward casino game around it, giving it a free spins round and a gamble feature, and putting it on the market. That might sound simplistic, but it works for them far more often that it doesn't. Fireworks Frenzy, Secret Garden, and Autumn Gold all share almost identical features, but are made to feel different by their theme. So long as you like the way that Eyecon presents their online casino games, you can just play whichever one most closely matches your genre tastes.
Sometimes, when the Australian developer wants to push things harder, they'll pile in with bonus features to give an edge to a game. They did that with the first Fluffy Favourites casino game in 2006, and they've been reaping the benefits ever since. Irish Luck is another example of them going the extra mile to make a casino game feel special, and when they're on form, nobody brings a bigger sense of fun.
Similar Featured Games With White Wizard Deluxe
Although they're Aussies at heart, Eyecon has opened an office in Guernsey so they can work more closely with the UK: the fact that thousands of people are playing their online casino games every hour of every day means they have to be permanently on hand! Several of the star attractions of our VIP casino are Eyecon games, so check out Shaman Spirit, Beat The Bobbies, and the other games we mentioned above if you want to take an Eyecon tour!
White Wizard Deluxe Bonus Features
The primary bonus feature in White Wizard Deluxe is a free spins round, which we'll come to in a second, because before that there are a couple of extra wrinkles to the gameplay. The wizard symbol isn't just a wild; he's an Expanding Wild. He pushes his magical abilities to the maximum or you! If he lands on a reel, and could create more wins if he were to expand and fill it, he'll do so. His trebling effect still applies, so this can mean multiple wins with a 3x multiplier on any spin.
Eyecon has also thrown in their well-known Gamble Feature. You're never required to take it, but if you'd like to try it when offered, you're putting your most recent win on the line. Choose correctly from the two options you'll be presented with, and that win will be doubled. Go wrong with your selection, and the win is lost. It's a straight up 50/50 game of chance.
Moving on to the Free Spins, you get them by landing as many dragon symbols as possible on a single spin. Just three of them will get you a more-than-reasonable fifteen free spins, but the amount of free spins increases in proportion with the number of symbols used to trigger the round; you'll get five more spins for each additional dragon. You're able to trigger yourself a fresh set of free spins if you land a further three or more dragon when the round is in progress.
Usually, Eyecon's online casino games offer a multiplier as standard within their free spins rounds. They haven't done so here - probably because the wizard already does that for you, and he appears often enough in his single and expanding forms to have a regular impact on the value of free spins wins. We won't claim that White Wizard Deluxe VIP slots game is a huge upgrade on the first game. It isn't. It's a gentle step forward, offering players who enjoyed that casino game more of what they like, with a couple of extra features on top. It's not going to win a beauty competition, but it might help you win a nice sum of money.