Wolf Gold Casino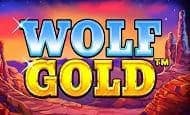 Fluffy Favourites Casino - Starburst Casino - VIP Slots
Wolf Gold is a five reel, 25 payline casino game by Pragmatic Play. Wolf Gold has Wild, Scatter symbols, Free Spins, Respins, and Jackpot bonus features, and an RTP of 96.01%. You can play Wolf Gold in the VIP Casino at VIP Spins, which also hosts more than 700 other great online casino games, including Blackjack, Roulette, Rainbow Riches, and Starburst.
As you'll have noticed by now, we at VIP Spins think of ourselves as a VIP slots casino. We believe we have the best incentives, the best promotions, the best reward systems for our members, and of course, the best online casino games. We wouldn't be able to make that claim unless we were able to bring you the most popular and most celebrated casino games on the market - and that's exactly what we're doing with Wolf Gold. The animals-and-nature themed casino game cleaned up almost everywhere in 2018, winning 'best game' and variations on the same theme from multiple different awards ceremonies. What makes it so special? Read on, and we'll tell you!
From the moment you first load Wolf Gold and prepare to spin the reels for the first time, you'll be struck by its haunting atmosphere. It's at once both beautiful and eerie; Pragmatic Play has captured the feeling of being alone among the canyons at night and somehow framed a VIP slots casino game around it. There are wolves here - they're mentioned in the name of the game, after all - and you'll hear their distant cries in the background as you're playing. Pragmatic Play abilities with graphics are on point here; they don't go over-the-top with animations or dramatic effects, but they know how to pitch a tone and create a mood. They may never have done it better than they have with Wolf Gold.
Although wolves - and animals in general - are the main focus of the theme of this game, there are passing references to Native American culture here, too. The pan pipe backing music comes from that world, and have an almost hypnotic effect. While the backing tracks of the majority of online casino games have us looking for a way to turn them off after ten minutes or so, we're happy to let Wolf Gold play on for as long as it likes.
If we focus on the reels, which are set into a wooden frame against the backdrop of the canyons, the five cards which make up a royal set account for the low values. Moving up from them, we have bison, horses, eagles, and a jaguar. The wolf makes an appearance as the wild, and is capable of substituting for all of the base game symbols to create winning combinations. There are a couple of bonus symbols which can't be replaced, though; the scatter (which is a view of the same canyons which are obscured by the reels), and a full moon symbol, which requires paying close attention to during the bonus features.
Similar Themed Games With Wolf Gold
Wolf Gold is probably the crown jewel of Pragmatic Play's entire collection. Given that we're talking about a collection that numbers in excess of 150 online casino games, we don't make that claim lightly. We know how many people play it here at UK Spins, and we've seen what people have to say about it online. Since releasing the game, Pragmatic Play has followed up by issuing a sister game called Mustang Gold, which we're also happy to offer you. Time will tell whether it captures people's excitement in the same way; the 2019 release is still establishing its reputation.
Pragmatic Play, who first opened their doors in Malta during 2007, are a company who believe that mobile players are the future. Online casino games have been around for over a decade now, and the current trends suggest that people are starting to play them more on their phones than they do on their laptops or desktops. Pragmatic Play is seeking to please that crowd by specifically designing their casino games to work on mobile screens.
Similar Featured Games With Wolf Gold
Using HTML5 as a coding language, they make the mobile version of the game first, and then they worry about ensuring it also look good on a laptop screen. We've seen other providers struggle with this - especially with resolution and display issues - so they're putting themselves in good stead for the next era of gaming. Other highlights from Pragmatic Play in our VIP slots casino include Pixie Wings, Ancient Egypt, Madame Destiny, and Great Rhino.
Wolf Gold Bonus Features
Wolf Gold picked up all those awards in 2018 despite having only two bonus features! We know that some of you will be shaking your heads at that fact and wondering how such a thing could happen, whereas others, who like things a little more stripped-back and traditional, are nodding your heads and thinking 'quite right, too.' A great online casino game is the sum of its parts. If any of those parts are out of place, or get in the way of other parts, then the effect and the atmosphere is ruined. Wolf Gold builds an atmosphere, gets you to buy into it, and then provides bonus features which play right into that atmosphere. That's what makes it so good!
Free Spins is the first of those two bonus features, and you access it the good old-fashioned way by landing three scatter symbols; something of a tradition in online casino games! As the scatter can only show up on the first, third, and last reel, this means landing all of them in one go. It's not easy to pull off, but it's worth doing. You may only receive five free spins - which can't be re-triggered - but during those spins the middle three reels combine into one, producing 3x3 symbols on each spin and therefore offering a fast route to big wins.
There's also the Money Respin bonus, which should perhaps better be explained as a Jackpot Feature. This is all about the full moon bonus symbol we mentioned before. Landing at least six moons on a single spin causes them to lock in place, and they'll remain there while you get to play a respins round. You have three respins to play with, but every time you spin and find at least one further moon symbol, you'll top up by one further respin. Each of the moons has a cash value written on its surface, and when the round ends, the combined value is yours. That's unless you're able to fill every reel and every row with moon symbols, in which case you'll be the lucky winner of the top jackpot that Wolf Gold has to offer.
Spin three times in total without finding any more moons, and the feature ends. No matter what happens, once you've triggered this feature, you should be guaranteed a win of a good size. Wolf Gold isn't hard to play or hard to follow, and doesn't blow you away with next-level graphics or animations. It's just a very well made, very well thought out online casino game, from a provider who knows exactly how to make them. The best way to find out why people love it so much is to play it, so seeing as you're here now in our VIP casino, why not give it a go?